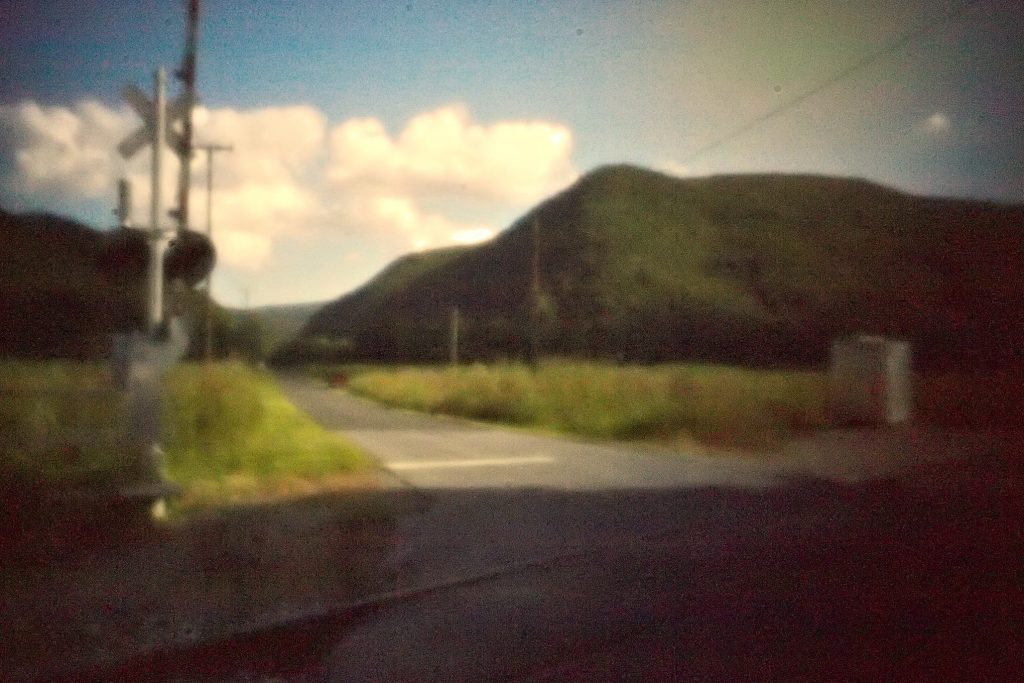 This is the pass that leads to the confluence of the Maury and James Rivers. The road ends at the confluence, just before the railroad bridge. The bridge that appears in previous images is on what is now the CSX line, previously the Richmond & Alleghany, and before that the James River and Kanawha Canal line, originally the James River Company, formed in 1785 with encouragement from George Washington. The emergence of rail travel overwhelmed the slow to develop canal project, and rail traffic along the sinuous curves of the James has been a constant ever since.
The tracks in the foreground are the Norfolk Southern line, originally the Shenandoah Valley Railroad, en route to Glasgow where Norfolk Southern and CSX switch freight between their lines. In the mid-nineteenth century, when canal traffic was at its height and the railroad was on its way, Glasgow appeared to be a perfect location for business success and growth. The iron boom of the late nineteenth century amplified all of these things considerably.
And yet, today the town of Glasgow is geographically isolated from commerce. After the iron boom went bust, and now with commercial traffic largely rerouted from rail to interstate, and the interstate half an hour away through neighboring Buena Vista and much rural land, there's not much going on in this town. The brick plant has been closed for decades, and the cement plant closed long before that. Investments have been made in establishing a walking trail from the town out to the canoe launch at the confluence, and safety upgrades have been put in place there as well, catering to the steady stream of kayakers, canoeists, and tubers who come in warm weather.
Just as the course of a waterway shifts over time, so does the flow of human commerce. This town that benefitted for so long from the local rivers and has come to be so isolated from the flow of modern commerce now finds itself returning attention to the rivers as a new type of commerce emerges along them.